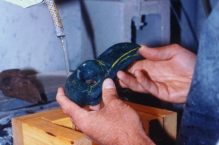 Jeff Schaezle of Billings Montana chose
to carve a raven skull in jade.
I can take two people at a time, although usually it's one on one.

All the equipment is here, you're not expected to bring any tools. I have safety gear for students but if you have your own respirator and ear protectors, by all means bring them along. If you are driving to Vernon, bring a pair of gumboots; I may not have a pair that will fit you. Because jade is carved with water, it's an absolute necessity to wear water-proof aprons and jackets, which I will supply. I always enjoy looking at slides or photographs of past works, so bring them and anything else of interest relating to the workshop if you feel so inclined.
I will provide up to five pounds of Canadian Jade for carvings, per student. If a larger block if needed, the student will pay the balance. There may be special project requirements involved for size and characteristics, I am happy to make enquiries within the North American jade mining community to find the right piece, whether it be 20lbs, 100lbs, or more!

When jade jewellery making is the focus of the workshop, the quality and price per pound is much higher than carving grade. My selection of "exotic jades" would be offered for the execution of a pendant, a pair of earrings, or a bangle for example.


The workshop hours are from nine to six o'clock. Lunch is on me and you are on your own for the evening meal. There are plenty of restaurants in Vernon.